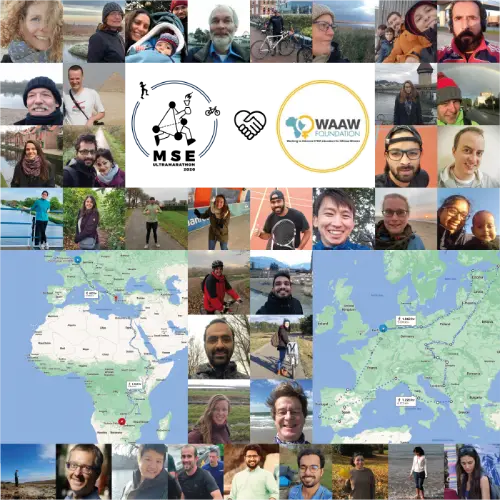 January 18, 2023
MSE ULTRAMARATHON 2020 SUPPORTS WOMENS' STEM EDUCATION IN AFRICA
From the 9th of November 2020 to the 3rd of January 2021, 77 participants both students and staff from the Materials Science and Engineering Department of Delft University of Technology (the Netherlands) walked, ran, and cycled to stay fit and for a good cause. Each day they started from Delft on a cycling trip through Europe, heading for Lisbon then back into central Europe towards, Rome, Sarajevo, and Saint Petersburg, and then back home to Delft, some 11,000km. Likewise, the walkers and runners journeyed from Delft to Victoria falls in Zimbabwe. Almost all the participants both cycled and ran and some of them did quite long distances, some cycled up to 60 kilometers a day.
PURPOSE OF ULTRAMARATHON
Ultramarathon had three crucial goals.
be motivated to go out for a walk or bike ride;
have fun on the way through Europe, Africa, and Asia;
donate to charity.
These were very important reasons for Biswanath Dutta, a post-doctorate research associate. Biswanath Dutta believes that by exercising themselves, they help women in Africa to become influential leaders of tomorrow and that the event will also help them maintain a healthy life-work balance. He also added that this is a positive effect on their mental health, especially during this long pandemic.
SUPPORT WOMEN'S STEM EDUCATION IN AFRICA
The Material Science and Engineering Department of the Delft University of Technology did this for fun but also for a purpose. They were on the road to supporting women's STEM education in Africa. The MSE department donated 20 cents per kilometer covered by each participant to the Working to Advance Science and Technology Education for African Women (WAAW) Foundation.
To support women's STEM education in Africa, click on the donate button below to make a flat contribution to WAAW Foundation on behalf of the event