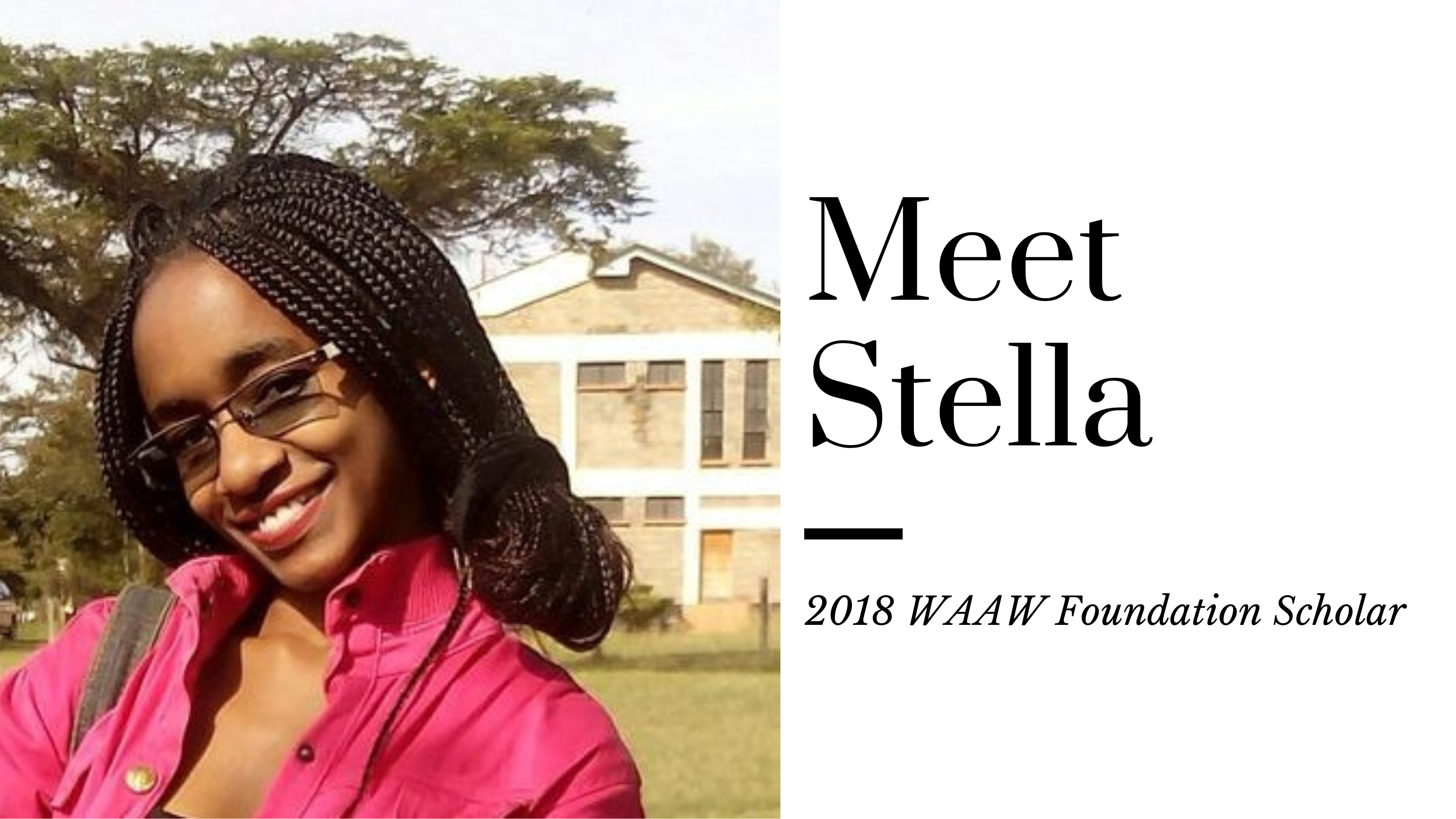 November 17, 2023
How the WAAW Foundation empowered Stella Muthungu to achieve her dreams in the face of challenge
Stella Murugi Muthungu lost her father while still in high school, forcing her mother to take on extra work just to pay for Stella's education. The odds were stacked against her then, yet today, Stella is living proof that with help and perseverance, young women can break through barriers and achieve their dreams.
The key that unlocked Stella's future was the WAAW Foundation scholarship. This small investment in Stella's potential set her on a path to become a highly educated, professionally accomplished woman making a difference in her community. She went from surviving to thriving. 
Stella's uplifting story shows how scholarships focused on supporting women can empower them to become leaders.
Stella's Early Challenges 
After Stella lost her father, the  tragedy put immense financial strain on Stella and her family. To help her mother pay for her education, Stella took on part-time jobs while attending high school. She worked tirelessly to earn money for school fees and other educational expenses. 
Despite losing her father and having to work to support her education, Stella persevered. She was determined to get an education and create a better future for herself and her family. Though she faced adversity early in life, Stella never gave up on her dream of completing her education.
The WAAW Foundation Scholarship
WAAW Foundation scholarship allowed Stella to complete her college education and achieve her dreams of becoming an engineer. Without this support, Stella may not have been able to finish her degree due to the financial challenges she faced after losing her father. The scholarship removed the burden of worrying about tuition and expenses, enabling Stella to focus on her academics and graduate with honors.
Following that,  Stella was able to attain an engineering degree that opened doors to impactful work and leadership roles. The scholarship directly empowered Stella to gain the education necessary to improve water and sanitation infrastructure in her community. It was truly an investment in Stella's potential that she has gone on to repay exponentially through her service and influence. WAAW Foundation's support of Stella's college education provided her with the foundation to build an inspiring career improving lives.
Stella's Passion for Empowering Women and Girls
Stella is passionate about empowering women and girls in the water and sanitation sector in Kenya. Coming from a disadvantaged background herself, she understands the importance of uplifting and supporting other girls to achieve their potential. 
After overcoming her own challenges to complete her engineering degree, Stella was determined to help other girls access education and opportunities in STEM fields. She co-founded a community based organization dedicated specifically to empowering, educating and mentoring rural girls in Kenya.
Her organization provides scholarships, mentoring programs, and STEM education to girls from low-income families. They work to break down barriers that prevent girls from pursuing science and technology careers. 
Stella also networks with other women in the sector through her involvement in the Rockblue organization. This global group supports developmental water, sanitation and health projects worldwide. Stella collaborates with other female change-makers who are working to improve gender equality in the water industry.
Through her advocacy and initiatives, Stella is empowering the next generation of female leaders in water and sanitation. Her work is creating a more diverse and inclusive sector that values the contributions of women. Stella is a true role model – she is passionate about ensuring other girls have the same opportunities she did to excel in STEM and drive change.
Stella's Initiatives
Stella is dedicated to empowering women and girls through initiatives she has pioneered. As the Co-founder of a community based organization, she is dedicated to empowering, educating and mentoring rural girls in Kenya. Through her organization, Stella provides workshops, training programs and mentoring to help these girls gain the skills and confidence they need to succeed.
Stella is also an active member of the Rockblue organization, a global group working to support water, sanitation and health projects in developing countries. Her involvement with Rockblue allows Stella to collaborate with other change-makers across the world to increase access to clean water and sanitation. She serves as a force multiplier, expanding the impact of Rockblue's work through her own initiatives aimed at rural Kenyan girls.
Stella's impressive initiatives demonstrate her passion for uplifting girls and women through education and opportunity. Her advocacy is creating a ripple effect of empowerment across Kenya.
After losing her father and working to support her family's finances for school, Stella went on to graduate with an engineering degree, thanks to the WAAW scholarship. This allows her to demonstrate firsthand that empowered women given the right resources and support can attain their goals, regardless of their circumstances.
Support WAAW's Mission of Empowerment
 WAAW Foundation has demonstrated the immense impact scholarships and mentorship can provide for young women like Stella in Kenya. By supporting WAAW's mission with a donation, you become part of the journey for the next generation of female leaders in STEM fields across Africa. 
The impact of donors allows WAAW to continue their invaluable work empowering women in STEM across Africa. Your gift plants seeds of knowledge that will grow into groundbreaking research, innovations, and global solutions. Join WAAW's mission today and create empowerment opportunities for gifted young women facing financial hardship. Give the gift of education and watch it multiply. 
Check this one out!
A Determined Innovator: Kelvin Rwasoka's Journey in STEM after the 2023 WAAW Summit