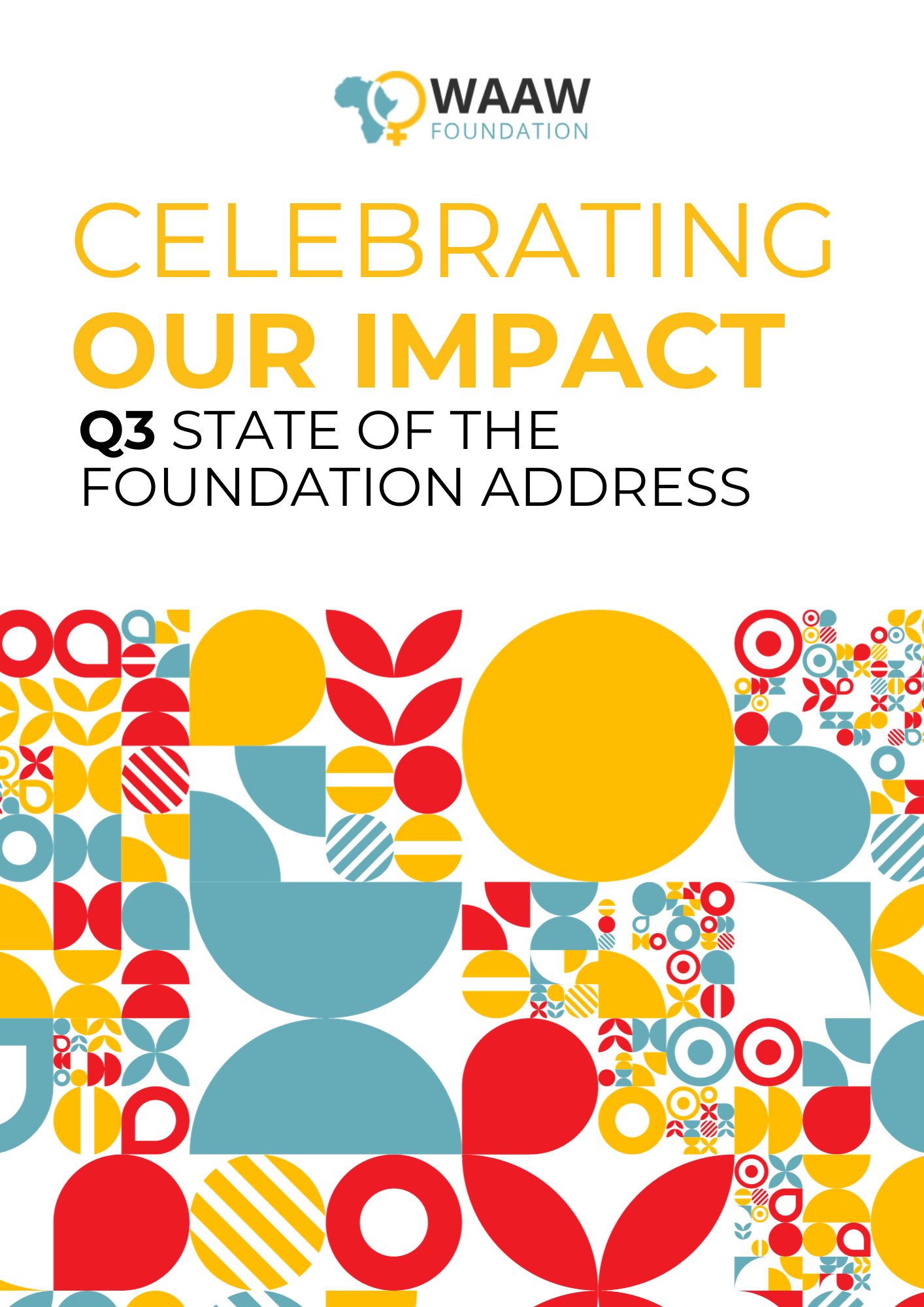 November 16, 2023
Celebrating our Impact: Q3 State of the Foundation Address
The commitment to advancing STEM education and opportunities for African girls and women remains critical to the continent's sustainable development. As Nelson Mandela once said, "Education is the most powerful weapon which you can use to change the world." 
At WAAW Foundation, we wield this powerful weapon – education in STEM – to transform the future for African girls and women. Since our founding, we have made remarkable strides in our mission to increase the number of African women in STEM and foster the next generation of female innovators. 
Today, as we reflect on our growth and impact over the past quarter, we are reminded of the immense progress we've achieved together. Our strategic programs, passionate team, and strong spirit of collaboration have driven our organization forward. There is still a long journey ahead, but WAAW Foundation moves into the future with tremendous momentum.
WAAW's Remarkable Journey
WAAW Foundation has come a long way since its inception. What began as a small group of passionate individuals has blossomed into a thriving organization making waves across Africa. 
Over the past decade, WAAW has empowered hundreds of young girls to pursue STEM education. Our scholarships and outreach programs have provided access and ignited interest in Science, Technology, Engineering and Math.
From humble beginnings operating out of a small office, we now have chapters and communities in over 20 African countries. Our network spans the continent, allowing us to reach disadvantaged youth in remote regions.
The foundation started with a team of small volunteers. Today, we have over 100 staff and fellows working tirelessly to advance our mission. Their commitment has been key in scaling our programs and expanding our impact.
Our social media following has grown exponentially from just a few hundred to over 10,000 followers across platforms. Millions more have been exposed to the WAAW message through our viral campaigns and initiatives.  
From impacting hundreds of students to now reaching thousands, our growth has been astounding. But numbers alone don't fully capture our success.
The stories of young girls who gain access to education and opportunities thanks to WAAW inspire us daily. Our alumni go on to become leaders in their fields, innovators and pioneers shaping the future of Africa.
As an organization, the sheer scale of our growth in the past decade gives us much to celebrate. But it is the human impact, the lives transformed that marks our most rewarding achievement. Our journey has been remarkable, but this is only the beginning.
Celebrating an Exceptional Team
Our team's passion for female empowerment has been the driving force behind our success.  We've seen this passion in every project, outreach, and endeavor we've undertaken. 
Our growth mindset demonstrates creativity, this is evident in the way each of them has approached challenges. Their pursuit of knowledge, their willingness to adapt and learn, has been the cornerstone of our progress. 
Our dedication to excellence is another area of growth. Each one of our staff continues to grow in the areas of skills and competence in their respective roles. Their meticulous attention to detail and commitment to quality will take WAAW to where we need to be. 
Stellar Achievements This Quarter
In the third quarter of the year, WAAW Foundation had several standout accomplishments:
Disbursed the first installment of scholarships to 24 talented African girls pursuing STEM-related courses at universities across the continent. This supports the promising scholars in their academic journeys and contributes to bridging the gender gap in STEM.

Organized 25 STEM outreach programs in over 20 secondary schools, reigniting students' interest and curiosity in STEM subjects. 

Hosted three monthly meetups for WAAW fellows, featuring industry experts and thought leaders. Their insights on STEM, personal development, and career advancement empower fellows to make an impact in STEM.

WAAW ambassadors conducted webinars and outreach in 13 schools, inspiring students to pursue STEM education and careers.

Provided training to 30 STEM teachers in Asaba and neighboring states. These educators gained knowledge in renewable energy, web development, and scratch programming. 

Connected 45 fellows with mentors in their STEM fields, guiding and supporting their academic and career journeys.

Submitted 5 grant proposals, with 1 success so far. 

Grew the online community by 78% in social media followers and 5,000 newsletter subscribers, alongside 300% YouTube growth.

Implemented initiatives like an alumni repository, donor appreciation, fellow recognition, and consistent content delivery to boost engagement.

Formed new collaborative relationships with several esteemed institutions:

Vemoye Foundation UK

Collins Aerospace UK

Black Sisters in STEM

African Science Academy, Ghana

Edo State – Ministry of Digital Economy, Science and Technology

Tributary Initiative for Learning, Nigeria

Harvard University Student Organization, USA
In the third quarter, we also significantly bolstered community engagement through various initiatives. This included substantial growth across our digital platforms and the launch of new programs to further connect with our audience. 
Specifically, we achieved a 78% increase in social media followers, with over 5,000 new newsletter subscribers. Our YouTube watch hours rose remarkably by 300%, alongside growth in YouTube subscribers. 
To further foster engagement, we implemented several new programs. These included creating an alumni success story repository to showcase the journeys of our graduates. We also began a monthly donor appreciation initiative to recognize their vital contributions.  
Additionally, we launched a fellows recognition program to celebrate their achievements across our STEM chapters. This serves to motivate and inspire their continued dedication to our mission.
Along with these new initiatives, we prioritized the consistent delivery of informative and engaging content across our digital platforms. This comprehensive strategy allowed us to significantly bolster our community engagement in Q3.
Restructuring for Growth 
In Q3, we undertook substantial restructuring to support our continued growth. We welcomed new talents into our organization including a Program Manager and Partnerships Manager. Our board saw a notable improvement as we added three new members, expanding our leadership team. We also onboarded four interns whose energy and passion contribute to our mission. 
Alongside expanding our team, we made necessary adjustments to our organizational structure. The Program Manager now oversees all our STEM education initiatives. The Partnerships Manager focuses on cultivating and managing relationships with other organizations. With our revamped structure, we have improved coordination and are poised to further scale our mission.  
Onboarding new staff and interns required extensive training to ensure they excel in their roles. Our seasoned team members have provided excellent guidance, and our new hires have proven to be quick learners. We are thrilled to have these passionate individuals as part of the WAAW family. The restructuring has empowered us to operate more effectively as we embark on the next phase of our journey.
Future Goals
With an exceptional third quarter behind us, WAAW Foundation has turned its focus to the future and established strategic goals for the fourth quarter. We aim to build on our remarkable progress and scale new heights across all pillars of our organization: programs, partnerships, people, and marketing. We aim to achieve the following:
 Redefine rubrics for scholarship selection and shortlist for interviews and evaluation.

 Extend recognition initiatives to celebrate STEM chapter contributions.  

 Develop curriculum and resources for chapters and drive monthly fellow meetups.

 Organize an alumni networking event to foster connections.

 Host a one week training session for fellows.

 Review and finalize the most qualified CSC nominees.

 Implement tracking systems for scholarships and outreach.

 Launch scholarship and fellowship programs in 5 new African countries.

 Strategize a revamped coding bootcamp for fellows and scholars.

 Collaborate with grant writers to submit 6 quality proposals.

 Build partnerships in 20 existing countries.

 Train on proposal writing and negotiation for chapter leaders. 

 Focus on monitoring, evaluation and data collection.

 Deepen engagement with current partners.

 Host a fundraising event.

 Forge collaborations with organizations similar to Hali.

 Launch a Fellows Opportunity Board.

 Onboard new hires for key roles.

 Prioritize training and development for new hires and interns.  

 Optimize volunteer engagement.

 Implement benefits like performance rewards and health insurance.

 Improve our impact storytelling.

 Grow our social media reach.  

 Launch paid ads to support fundraising.

 Host monthly online events for alumni.

Begin a scholarship fundraising campaign.
With a clear roadmap for the next phase of our journey, WAAW Foundation is prepared to accomplish even greater milestones and make an enduring impact.
As we move into the final quarter of 2023, the future of WAAW Foundation shines bright, fueled by the passion and dedication of an exceptional team. This foundation has overcome obstacles and achieved remarkable success within a short period – a testament to its leadership, people, and shared vision. 
The opportunities ahead are limitless. With committed chapters spreading our mission across Africa, empowered fellows uplifting their communities, and inspiring scholars shaping the future, we are steadily moving towards our goal of advancing African women in STEM.
None of this would be possible without the generosity of our donors and volunteers. Your contributions keep our programs running and enable us to change lives across the continent. We hope you'll continue to stand with us on this journey of empowerment and progress. Support our mission by donating or volunteering today. Together, we can create opportunities for generations of women to excel in STEM fields. 
The road ahead promises exciting innovations, empowering initiatives, and groundbreaking progress for Africa's girls and women in science and technology. At WAAW Foundation, we are dedicated to this journey of transformation. Join us as we inspire, prepare and propel the next generation of female innovators and leaders. The future is female, and the time is now. Let's do this!