May 18, 2023
2022/2023 WAAW Foundation Scholarship Announcement
The WAAW Foundation is proud to have received a total of 2095 scholarship applications from female students attending various tertiary institutions across African countries. The high number of applications reflects the immense talent and ambition of young women across the continent who are eager to pursue higher education and contribute to their communities.
The distribution of applications showcases the widespread reach and impact of the WAAW Foundation's scholarship program. Among the applicants, 55.1% were from Nigeria, highlighting the foundation's significant presence and impact within the country. Additionally, we received applications from other African nations, including Namibia (1.1%), Rwanda (1.5%), Malawi (1.4%), Liberia (1.3%), Kenya (4.9%), Ghana (6.1%), Cameroon (3.0%), Rwanda (1.5%), South Africa (11.4%), Uganda (2.7%), and Zimbabwe (2.8%).
This diverse representation reflects the Foundation's commitment to supporting female students from various African nations, promoting inclusivity, and empowering women across the continent. By providing scholarships, the WAAW Foundation aims to break down financial barriers and create opportunities for talented and deserving young women to pursue their educational dreams. The high number of applications received underscores the pressing need for increased access to quality education and scholarship opportunities for young women in Africa. The WAAW Foundation is honored to play a role in addressing this need and empowering the next generation of female leaders and change-makers.
The Foundation carefully reviewed each application over a 5-month period to identify the most deserving candidates who demonstrated academic excellence, leadership potential, and a commitment to making a positive impact in their respective communities. Qualified candidates were shortlisted for the second stage of the selection process, the interview round. The pie chart below shows the metrics for the 44 applicants who were shortlisted for the interview stage out of 2095 applicants. 
2023 WAAW Foundation scholarship recipients
We are thrilled to shine the spotlight on the 24 exceptional women in STEM who have been selected as successful candidates for the 2023 WAAW Foundation Scholarship Program. These bright minds represent the next generation of female leaders, innovators, and change-makers in Africa. After a rigorous selection process that assessed their academic achievements, leadership potential, and dedication to making a positive impact, these outstanding young women have emerged as deserving recipients of this prestigious scholarship. They have not only demonstrated their commitment to their studies but have also showcased their determination to overcome challenges and pursue their dreams of higher education.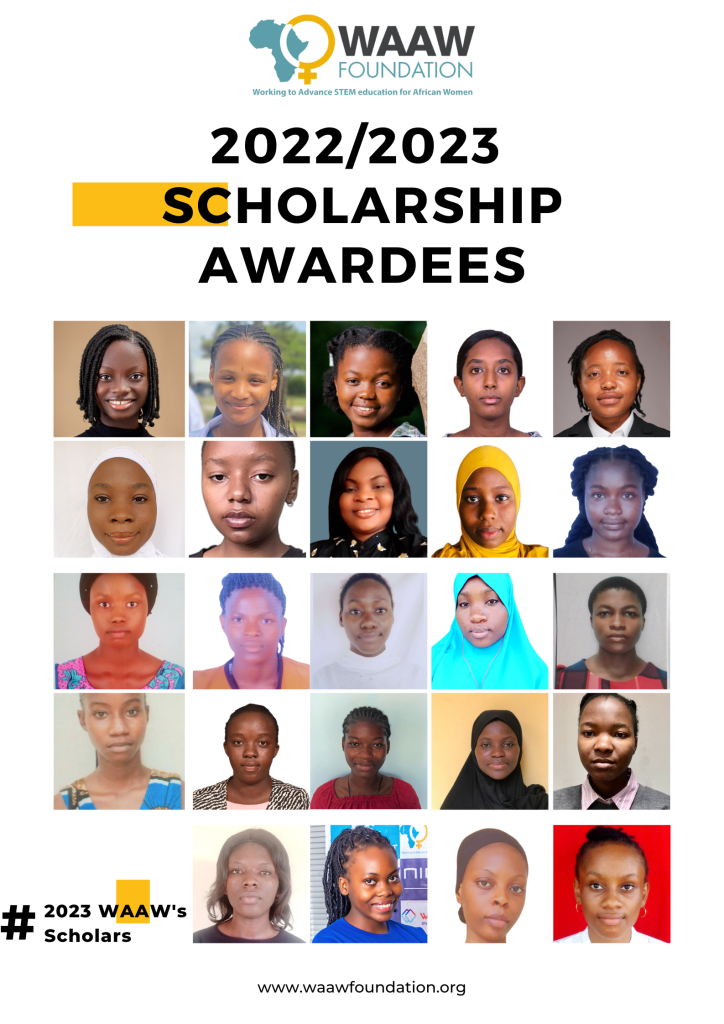 Each of these successful candidates brings a unique story, background, and set of aspirations to the table. From diverse African countries, including Nigeria, Ghana, Sierra Leone, the Democratic Republic of the Congo, South Africa, Uganda, Tanzania, Kenya, and Malawi, these scholars represent the spirit of resiliency, ambition, and tenacity that the WAAW Foundation supports. 
We extend our heartfelt congratulations to the successful candidates and express our gratitude to our sponsors, supporters, and partners who have made this scholarship program possible. Together, we are creating a brighter future, one scholarship at a time.
Since its inception, the WAAW Foundation has awarded 114 scholarships to girls studying STEM-related courses in 18 African countries. The scholarship is worth $500 and enables the recipient to cover their tuition fees and other expenses they require to excel in their respective field of study. The impact of the WAAW Foundation scholarship program extends far beyond the duration of the scholarship itself. Our alumni continue to thrive and achieve remarkable feats, making a tangible difference in their respective STEM fields, their communities, and beyond.
You can make a difference through the WAAW Foundation by sponsoring scholarships for more African girls studying STEM. Donate now!  Donate now!