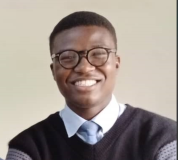 Contact Info
Toluwani Isreal
Program Intern
Israel Toluwani Jesutoki is a dynamic individual deeply committed to empowering and guiding younger generations in their pursuit of dreams. His profound belief in education and mentorship drives him to create opportunities for others to excel.
Israel's passion for technology and innovation has always been a driving force. His love for programming, engineering, and multidisciplinary fields motivates him to develop innovative ideas for societal impact.
Currently pursuing a 500-level degree in Electrical Electronics Engineering at the Federal University of Technology, Minna, Israel possesses the knowledge and skills to tackle complex challenges, including circuit design, automation, and control systems.
Yet, Israel's ambitions extend beyond academics. He values knowledge transfer, actively engaging in workshops, tutoring, and mentoring programs to ensure knowledge is accessible to all.